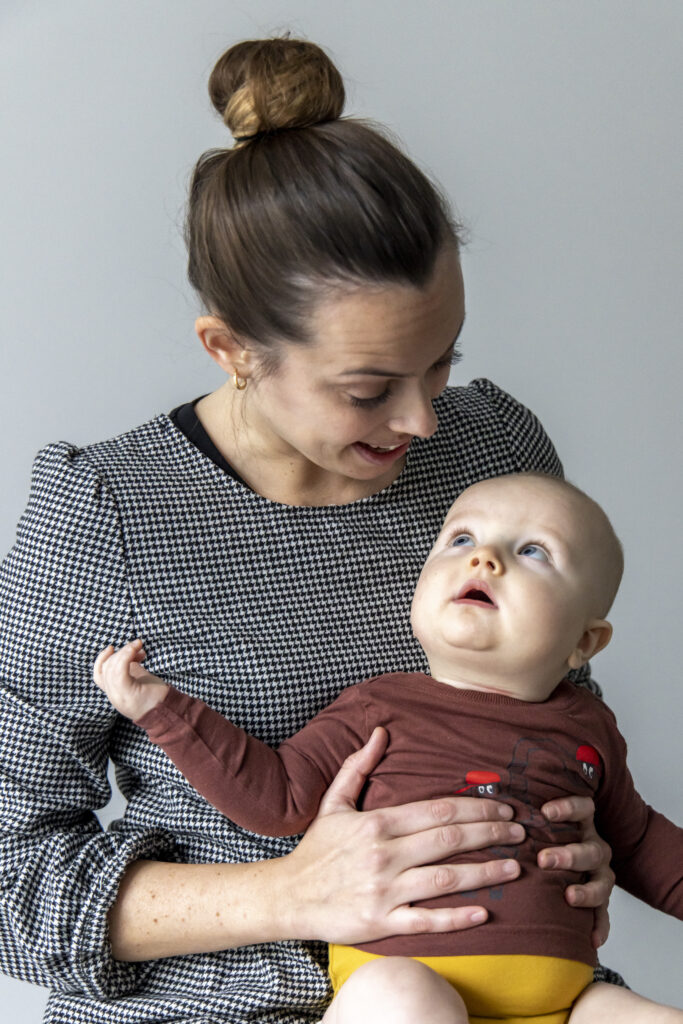 Helping and guiding people is what I love to do. Therefore the choice to go for a position in the healthcare sector was easily made.
Full of dedication, I started my midwife training, in 2009 at (school), culminating in a 10-week internship abroad in Kigali (Rwanda).
After getting my degree in midwifery, in 20212, I was ambitious and eager to broaden my medical knowledge. That is why I started an additional training in Osteopathy, at the ULB in Anderlecht (BE).
Given my prior experience as a midwife, my personal passion truely lies in the treatment of mother and child , which is why I opted for postgraduate courses within this theme.A pregnancy and a deliveryis a major process for the mother, and for the child. During pregnancy, labour, delivery and the postnatal period, many factors can affect the baby. All this can lead to feeding and swallowing problems, (hidden) reflux, sleeping problems, crying, preferred positions, intestinal complaints, etchile dealing with these issues, I always find it important not to think of the new-born as a 'mini' human, because a baby is more complex than this. As osteopaths, we have knowledge and skills, but we also act as a coach for our patients, who we assist in the different periods throughout their lives (e.g. pregnancy, postnatal period, etc.). It is great that we can help new-borns in various areas and all this in tandem with colleagues, parents, brothers and/or sisters, grandparents, etc. I think it is very important to also involve the other family members in the whole process. By giving tips and advice, they can also contribute to getting the best out of our treatment(s).

Not only babies deserve our attention, we are also there for children and adults. The great thing about our profession is that we can help people with all kinds of complaints. It is up to the osteopath to look for the root of the complaint, in the knowledge that the cause of the problem often manifests itself as pain elsewhere in the body.The cause can be detected in the musculo-skeletal system, but also at the level of the organs, emotions, lifestyle, medication, etc. Our personal, holistic way of thinking considers the patient as a whole and not just their complaint. After working for 3 years in 2 group practices (ACVO Oostmalle, happy baby coach and Osteoapthie Jullie Wallyn Overijse), I decided to start my own practice.

Education and training
Humanities : Sciences-Modern Languages (2003-2009): Maria Asumpta Lyceum, Laeken
Bachelor of Midwifery (2009-2012): Erasmus Hogeschool, Jette
Master+ Complementary Master's degree in Osteopathy (2012-2018): Université Libre de Belgique, Anderlecht.
2018-2020
o Panta Rhei : 2 jarige postgraduate opleiding osteopathie bij kinderen.
December 2018
o DAO-centrum : Simplified Kinesiologie
Oktober 2020
o Still More : symposium plagiocephalie & voorkeurshouding.
November 2020
o Panta Rhei : Masterclass primaire reflexen met Laurie Kolfoort.
2020-2021
o FICO – Osteopathy academy: pediatrie in de osteopathie: osteopathie bij baby's en kinderen jaar 1.
April 2021
o Osteopathie.be : Congress Osteopathic medicine for the paediatric population.
Juni 2021:
o Panta Rhei : The osteopathic approach to treating infants with tongue tie met Didde Thorsted.
December 2021
o KPNI België : Congres van het kind (eerste 1000 dagen).
April 2022
o Pantha Rhei : An Osteopathic approach to treatment of infants with GER/GERD ("REFLUX") met Didde Thorsted.
Mei 2022
o IAO : PAM "Zwangerschap (week 36-40), optimum fetal positioning, bevalling en herkennen van moeilijk postnataal herstel." met Colette Peeters.
Oktober 2022

Centrum voor osteopathie: Osteopathy and obstetrics met Stephen Sandler.

Oktober 2022

IAO: Asymmetrie bij baby's en kinderen met Alissa Picchioni.